Preserving Precious Moments: 3d Custom Circle Picture Pendant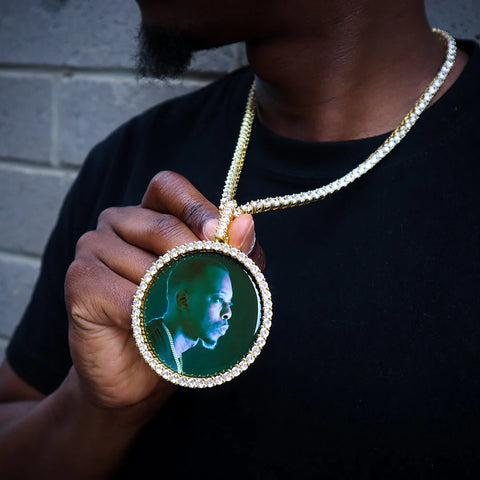 In today's digital age, we capture countless moments through the lens of our smartphones. From special occasions to everyday adventures, we are constantly documenting our lives in pictures. However, there's something magical about preserving those memories in a tangible and meaningful way. Enter the Big 3D Circle Custom Picture Pendant from Zuuking – a unique and personalized accessory that allows you to carry your cherished memories with you wherever you go.

A Personalized Treasure:
The Big 3D Circle Custom Picture Pendant is more than just a piece of jewelry; it's a personalized treasure that encapsulates your most precious moments. With this pendant, you have the opportunity to showcase your favorite photograph in a stunning three-dimensional form. Whether it's a picture of your loved ones, a cherished pet, or a memorable place, this pendant allows you to keep them close to your heart.

Expert Craftsmanship:
Zuuking is renowned for its commitment to craftsmanship, and the Big 3D Circle Custom Picture Pendant is no exception. Each pendant is meticulously crafted by skilled artisans who pay attention to every detail. The result is a beautifully designed piece that captures the essence of your photograph and transforms it into a wearable work of art. From the intricate etching to the smooth, polished finish, every element of the pendant exudes quality and elegance.

Superior Materials:
Quality is paramount when it comes to jewelry, and Zuuking understands this well. The Big 3D Circle Custom Picture Pendant is made from high-quality materials to ensure durability and longevity. The pendant is crafted from Premium brass, known for its strength and resistance to tarnishing. This ensures that your cherished pendant will stand the test of time, becoming a lasting symbol of your memories.

Versatile and Fashionable:
Not only does the Big 3D Circle Custom Picture Pendant hold sentimental value, but it also makes a stylish fashion statement. The pendant's sleek and modern design pairs well with various outfits and occasions. Whether you want to add a touch of elegance to your everyday attire or make a bold statement for a special event, this pendant is versatile enough to complement any style.

Thoughtful Gift Option:
Looking for a meaningful gift for a loved one? The Big 3D Circle Custom Picture Pendant is a perfect choice. By personalizing the pendant with a cherished photo, you're offering a unique and heartfelt gift that will be cherished for years to come. It's an ideal present for birthdays, anniversaries, or any occasion that calls for a special token of love and affection.